'Aamdani'
-The Finance and Investment Cell
About the society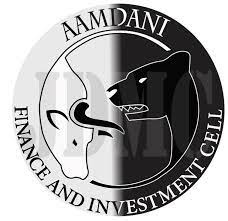 AAMDANI, The Finance and Investment cell of Janki Devi Memorial has a vision to create a group of incredible women with strong business acumen by imparting a blend of academic and practical knowledge of finance to university students.
History
The society was founded in 2016 , with an initiative from the students of Economics department . Since then, it has been divided into groups of individuals who contribute their interpersonal skills to run the society. The society provides a platform to get acquainted with the day to day economic and financial happenings at national and international level through group discussions, debates, paper presentations, case study competitions, interaction with experts and eminent personalities in finance field, virtual stock trading (mock stock competitions) et
Name of the Convenors: Dr. Bijoyata Yonzon, Dr. Devender Kumar, Ms. Richa Dani and Ms. Trisha Joll
Student office bearers, 2021-22
President: Yukti Rawat (III year)
Vice President: Ruhani Galhotra (III year)
General Secretary: Bhavya Nagpal (III year)
Joint Secretary: Manika Garg (III year)
Treasurer: Ananya Chahal (II year)
Media & Marketing Heads: Nitya Mahajan (III year), Diya Chanana (II year)
Content & Creative Heads: Shreya Singh (III year), Srishti Nagpal (II year)
Operation Heads: Ananya Joshi (III year), Kartika Aggarwal (II year)
Sponsorship Heads: Ayushi Jain (II year), Nidhi Dua (II year)
OFFICIAL WEBSITE
AAMDANI recently launched its website to provide the readers an easier way to learn about AAMDANI's resources and to browse information based on their own choice. This new website gives better access to our Vision, our People, Events, News and updates, Blogs, Case studies and our Newsletter- 'Strictly Street'
Website link: https://aamdanijdmc.wixsite.com/my-site-2

NEWSLETTER
Each month AAMDANI: The Finance and Investment cell launches amazing editions of the newsletter having some short, crisp and informative content. All its editions are available on our society's website. The Newsletter comprises of financial articles, case studies, facts, riddles and current affairs penned down by our own students of the society.
Unleash your financial acumen by subscribing now: http://bit.ly/2MRBGAx