Add On / Certificate
Courses
Sociology Add on courses
---
Add on Course Travel and Tourism (History department)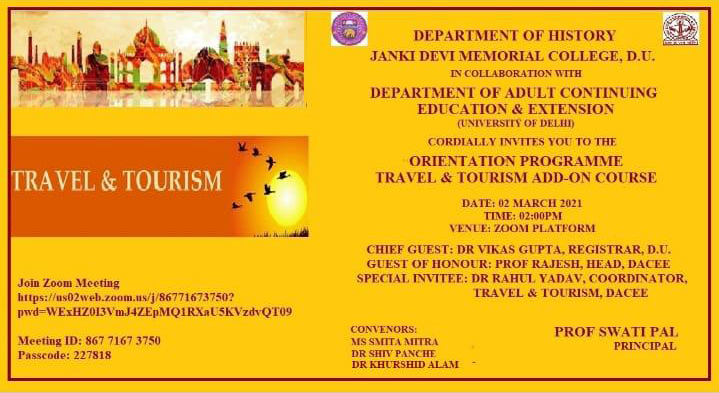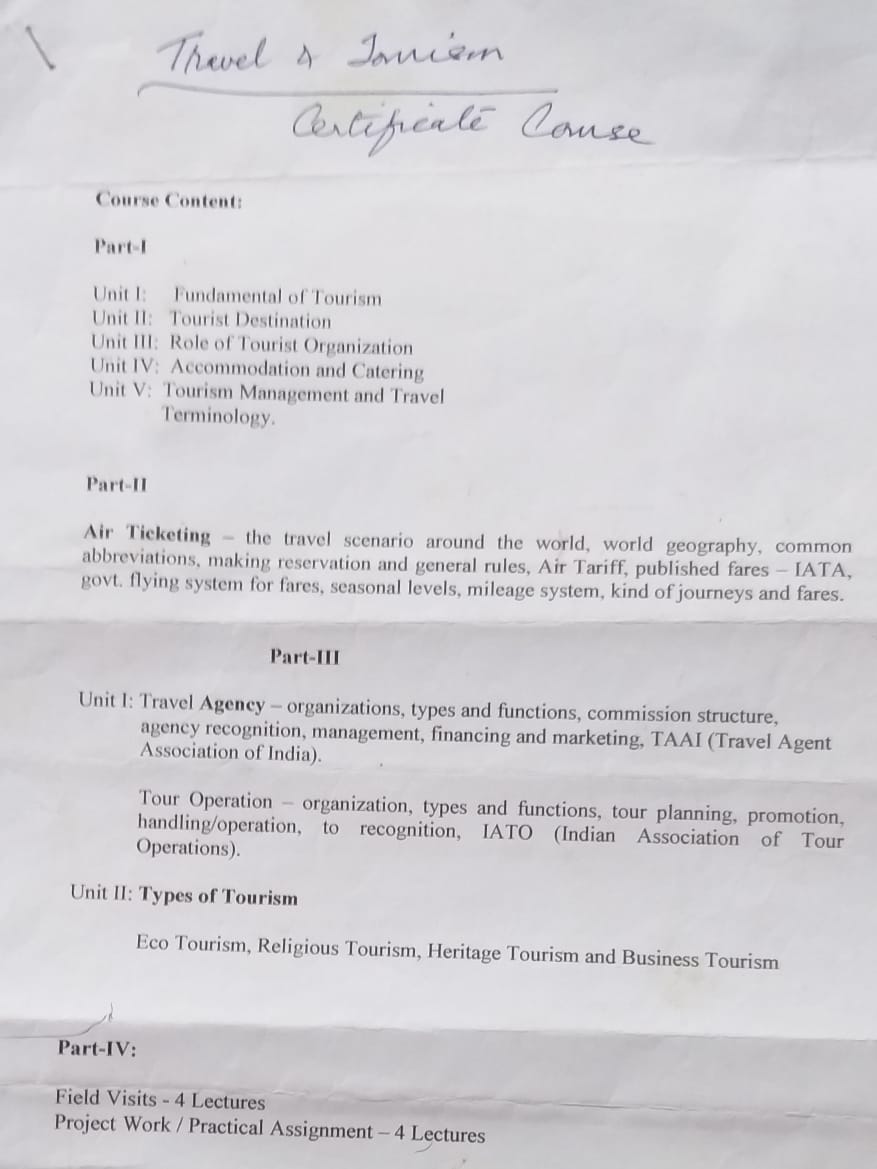 Poster Archives Museology & Culture (History department)Click Here
---
Title of the course - Advanced computer applications in Business (Commerce)Click Here
Title of the course - Online Add-on Course on Web Designing using HTML5 and CSS3 (Mathematics) Click Here
Title of the course - Financial Horizon : Past & Contemporary
Name of the Department offering the course - Department of Commerce
Name of the Course Coordinators - Dr. Vibha Jain
Name of the resource person/ persons -
Key Resource Person
Ms. Mansi Anand
Assistant Professor
Department of Commerce, Janki Devi Memorial College
Resource Person 1
Mr. Jayakar Sodagiri
Assistant Professor,
Department of Commerce, Delhi School of Economics
Resource Person 2
Mr. Akshay Jain,
Head of Finance, Vardhaman Textiles
Resource Person 3
Mr. Rajesh Jain
Practicing Chartered Accountant
Resource Person 4
Ms. Simran Arya
Assistant Professor
Guru Jambheshwar University, Hisar, Haryana
Status of the Course - Completed
Date of Commencement - 17 May 2021
Number of Students - 29 students
Poster of the Course - Click Here
Report of the Course - Click Here
Attendance Sheet - Click Here
Images of the Course - Click Here
Feedback Form - Click Here
Recordings Link - Click Here
Acupressure
Click Here to see more Details 1
Sanskrit
Click Here to see more Details 1
Click Here to see more Details 2
Acupressure
Alumnae Association, Janki Devi Memorial College presents to you, a 30-hour online add-on course on 'Acupressure'. First, a webinar is being held (on 03 April 2021) to introduce participants to this technique that they can use for self healing.
They can understand the importance of naturopathy in our body fitness first by attending the webinar and if they like it, they can join the course also.
The good part is that there is no age or qualification bar and it is open to anyone who wishes to learn about the methods to stay fit in the times of pandemic.
All the registered students will be provided with reading material (in the language of student's preference) and a kit (couriered to their registered addresses), which they will be using in the course of learning.
Acupressure is a very useful and non-invasive therapy. Apart from teaching people the methods of treating a wide range of ailments (physical amd mental), it holds career prospects for those, who become proficient at it. With this course, you can learn to take care of yourself and learn about career opportunities in this field. So, learn to 'be your own doctor'.