National Service Scheme
(NSS)
About (NSS)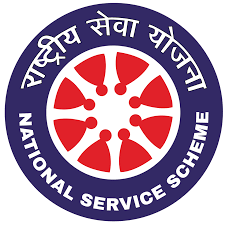 The National Service Scheme (NSS) was launched on September 24, 1969, the Mahatma Gandhi's Birth Centenary year, at 37 universities across India with the objective of bringing academic institutions closer to society. NSS aims at developing students' personality through community service. Ever since it's inception, students and teachers jointly participate in and undertake various programmes for social service, thereby actively involving themselves in the task of nation building.
Objectives behind the NSS
To identify and address the needs and problems in the community.
To develop a sense of social and civic commitment among students.
To apply education as a method in finding practical solutions to community problems.
To develop competence required for group living and sharing responsibilities.
To develop skills in mobilising community participation.
To strengthen leadership qualities and democratic attitude.
To enhance capacity to meet emergencies and national disasters.
NSS Motto
The motto of the National Service Scheme is 'NOT ME BUT YOU' reflects the essence of democratic living and upholds the need for selfless service and appreciation of the other person's point of view and to show consideration for fellow human beings. NSS emphasizes peaceful co-existence.
NSS OFFICE BEARERS 2018-19
Ms Sanjukta Naskar
Assistant Professor, English Department
Programme Officer
+91-9899703350
Shivani Chauhan (President)
B.Com (Hons.)
3rd Year
+91-9953265760
Simran Narang (Vice President)
B.Sc. (Hons.) Mathematics
2nd Year
+91-9013684001
Shivangi Tripathi (Secretary)
B.Sc. (Hons.) Mathematics
1st Year
+91-6392865354
Kritika Dholiwal (Treasurer)
B.Com (Hons.)
3rd Year
+91-8447372634
Pragya Arora (Executive Member)
B.Sc (Hons) Mathematics
2nd year
+91-7597377958
Anjali (Executive Member)
B.A Programme
2nd year
+91-9971191384
Khushi Verma (Executive Member)
B.Sc (Hons) Mathematics
2nd year
+91-8376060869
Apporva (Executive Member)
B.Sc (Hons) Mathematics
1st year
+91-7838476411
Team NSS, JDMC
Dr. SudnyaKulkarni
Programme Officer
Ms. ChanpreetKaur
Member
Student Members: Office Bearers
Bhumika Chawla
President
Shubhangi Singhal
Vice President
Nikita Kohli
Secretary
Mehak
Executive Member
Kirti
Executive Member
Simran Grover
Executive Member
Kritika
Executive Member
Shivani
Executive Member