Azadi Ka
Amrut Mahotsav
Please watch the first set of videos in the series that showcases stories of inspirational women change makers from different parts of the country with diverse backgrounds and areas of work. These are stories of grit and determination of everyday women who go on to achieve extraordinary feats, especially in the service of their nation and community. These videos can serve as an inspiration to young children, especially girls, to strive for the ideals embodied in Azadi ka Amrit Mahotsav.
3 Videos on Inspiring Stories:
https://drive.qooqle.com/drive/folders/1 Ut9vJAbo9vDBfwVeM-v9UbxOMqGtL6a?usp=sharina
b. Azadi Ki Amrit Kahaniyan trailer:
https://drive.google.eom/file/d/12Kz8AARExsnv7pgfhzihpEUYrZ4JdYxk/view?usp=dri vesdk
Online Patriotic Song Competition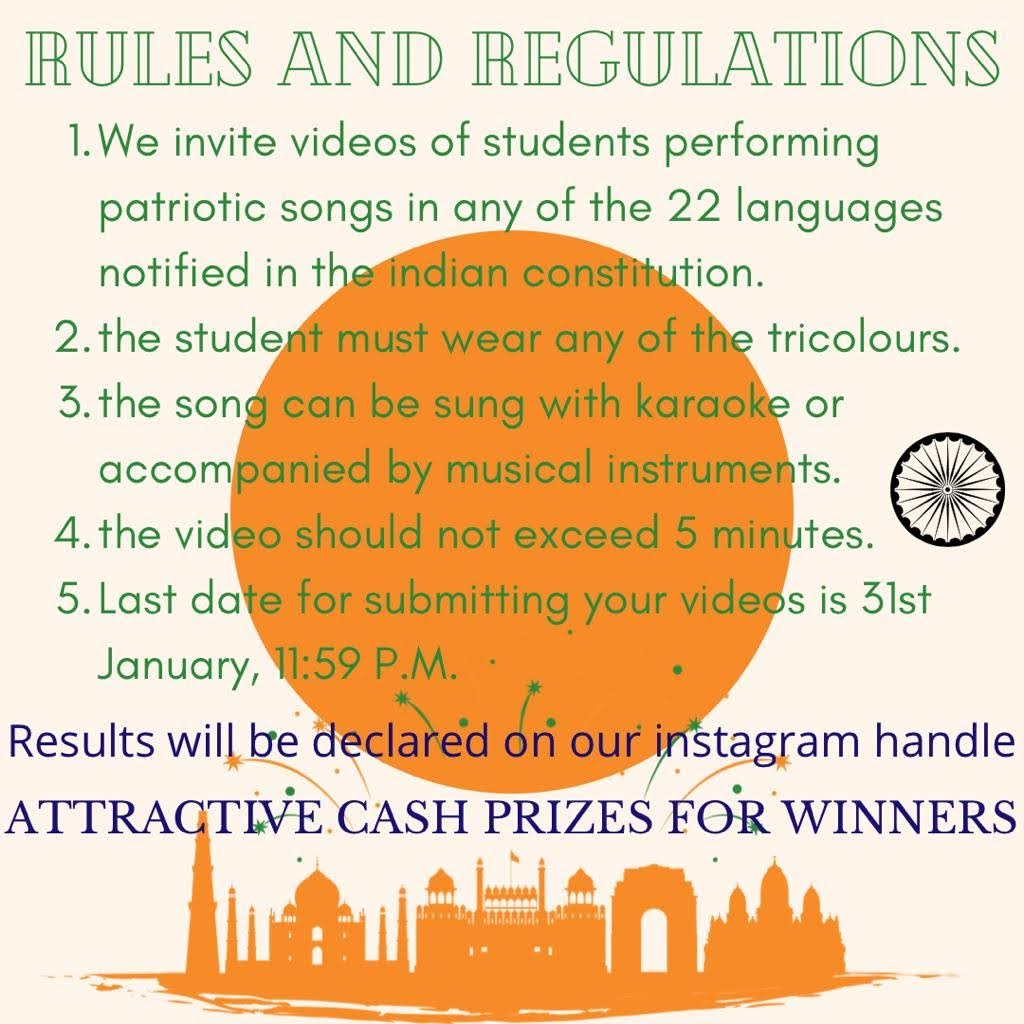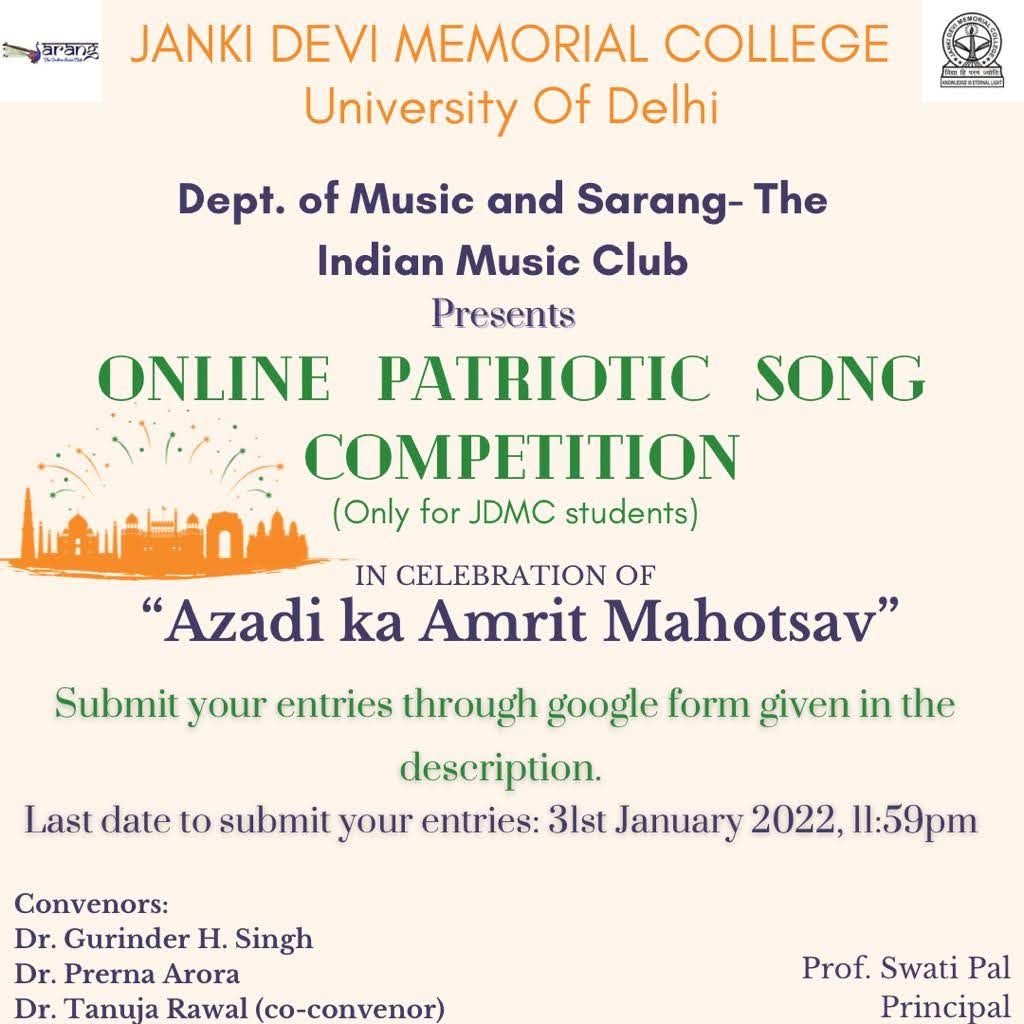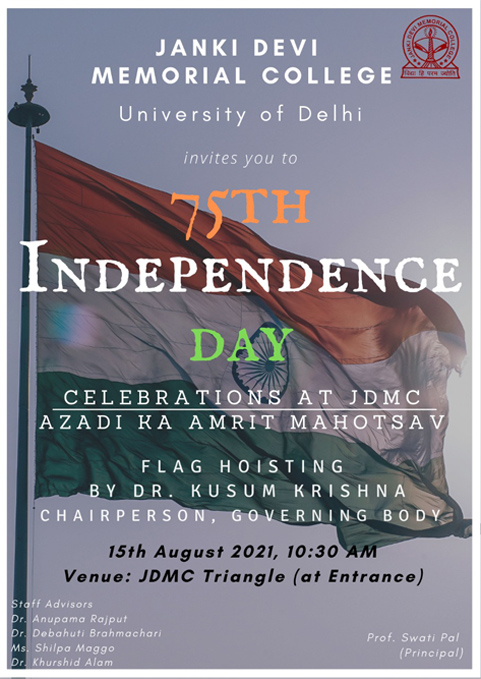 Link of Patriotic songs by college students
https://drive.google.com/folderview?id=1R_VZ8dp8nEvUNgNtIMoMPb0pt3c3pE4u
NATIONAL CADET CORPS- 5DGBN
Independence Day 2021
Under the guidance of Principal Professor Swati Pal and CTO Dr. Debahuti Brahmachari (Assistant Professor, Department of Political Science), Janki Devi Memorial College, National Cadet Corps (5DGBN), organized a virtual session (Bharat ki Shakti to celebrate 75th Independence Day 2021- Azadi ka Amrit Mohotsav. The flag hoisting ceremony in the college witnessed the guard of honor display.
The special guest for this webinar was Capt Dr Sunaina Singh. She has 16 years of diverse and enriching experience in administration, management, education, teaching and training. She is a certified life coach from YAARI International Non-Profit Organization, San Francisco, California, USA. She served with Indian Army as an Intelligence Corps officer. More than 80 cadets attended the webinar. She encouraged all the participants with her wisdom filled words and showed a better picture of how women could do better in various fields.
JDMC NCC also organized an Inter-college rangoli making competition on 14th August 21 on the theme- Azadi ki kahani, rangon ki zubani. Around 30 cadets participated in this competition with full enthusiasm. Winners were declared at the session. Cadets of JDMC NCC also performed patriotic songs and dance to depict their love for the nation. An aura of josh filled this virtual celebration amongst the NCC cadets.
Independence Day - August 15, 2021
On 15th August 2021, Janki Devi Memorial College, University of Delhi, celebrated 75 years of India's Independence. The festival of 75 years of Independence "Azadi ka Amrit Mahotsav" is an initiative of the Government of India to celebrate and commemorate 75 years of freedom of progressive India.
This festival is not only an endeavor to reflect the spirit of freedom struggle but also a pledge to build strong and prosperous India. Dr. Kusum Krishna, Chairperson, Governing Body was the Honorable Chief Guest for the occasion. After the welcome of guests the guard of honor ceremony was performed by the National Cadet Corps cadets, which was followed by the 'Flag Hoisting' and 'National Anthem'.