Jhankaar Folk
Dance Society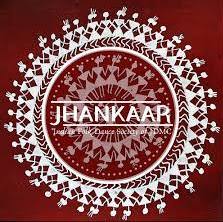 Convenors: Ms Smita Mitra, Dr Sipu Jaiswal and Ms Jayanti Sahoo
Jhankaar, the Folk Dance Society of JDMC was set up in January 2019. It made its maiden appearance during Symphony 2019 to provide a platforfor all forms of the enthralling folk dances of India, so far not showcased during Symphony.
During Symphony 2019, Jhankaar presentedthreenon-competitive folk dancesfrom three corners of Indiaperformed by students.
From the WEST we showcased KALBELIA, the dance form of the Kalbelias, a nomadic tribe of snake charmers and handlers from Rajasthan.The dance moves approximate the movement of snakes.The dark costume, usually in red & black with silver embroidery& mirror work is made up of an angrakhi for the upper body, a lehnga for the lower body and an odhni.
From the EASTwe chose BIHU, the graceful folk dance of the Bihu festival in Assam, celebrated three times a year,for Spring in April, for Food in October, and for Spirits and Dearth in January.
From the NORTH we presented JAGO, the energetic folk dance which celebrates weddingsin Punjab.
Twenty external teams registered for the Jhankaar competition, marking its popularity in its very firstedition. And the media attention Jhankaar received added to its justification.
As External Judges, we had Ms Sumita Sharma and Mr Vikas Kumarwho are renowned exponent of classical and folk dances of India.