Pratibha-
Foundation Classes for Competitive Exams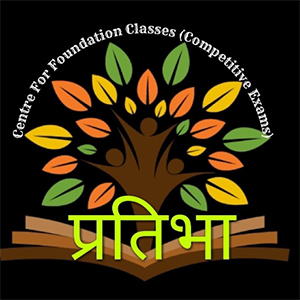 JDMC-IQAC PRATIBHA: Foundation Classes for Competitive Exams
Motto:
The motto of PRATIBHA: Foundation Classes for Competitive Exams is to adding value to the formal education of students who are studying at the University of Delhi, to orient and equip students with the necessary knowledge, skill-set, aptitude, and attitude needed to prepare for various competitive examinations and to empower students and maximise their potential to get results in the competitive exams. The classes are open to all the bona fide as well as ex-students of the University of Delhi. Since its inception in 2018, it has successfully provided orientation and guidance to the current as well as ex-students.
Vision
The PRATIBHA classes strive to provide constant support and guidance to the students who are willing to prepare for various competitive examinations conducted by the Union Public Service Commission (UPSC), State Public Service Commissions, etc. with a vision to enable them to secure their cherished career with the regular studies. It attempts to provide a platform for students from various socio-economic backgrounds to realise their aspirations. It also aims to build character and raise the capabilities of students by providing them with the basic knowledge and proper guidance of various concepts leading them towards their desired goals.
Mission
To realise the above mentioned Vision, the Pratibha classes aim,
To orient the students to discover their hidden talent and abilities with good quality and innovative teaching techniques, so as to ensure that they are ready to face challenges of various competitive examinations after completing their studies.
To nurture young and passionate minds of the students such that they can realise their fullest potential.
To inspire and support financially weak, but deserving students so that they can join the Pratibha Foundation Classes.
To conduct mock tests, mock tests discussions and personalized mentoring/guidance sessions to familiarise students with the nature and pattern of the competitive exams.
To inspire students to become good citizens and to motivate them to render selfless service to society and the nation by joining various public services.
Management
PRATIBHA: Foundation Classes for Competitive Exams is managed through the core committee as follows:
Patron: Prof. Swati Pal (Principal)
Convenor: Dr. Md. Zubeer Ahmed
Treasurer: Ms. Khachungla Chalhang
Members: Mr. Ahirrao Dinesh Bharat and Mr. Raju Keshari, Dr. Shilpa Chaudhary (Ex-officio, IQAC Convener)
The tenure of each post is for a period of two years, extendable only if required.
Modules
The classes will cover the following modules:
1. General orientation about competitive exams
2. Newspaper and magazine reading for current affairs and how to prepare for Multiple Choice
Questions (MCQ's)
3. How to write descriptive answers
4. Essay Writing
5. Body language skills
6. Personality Test
7. Concepts of Economics: GDP, GNP, NNP, PPP
8. Economic planning in India
9. Inflation and Taxation
10. Stock market and Capital market
11. Government policies and schemes
12. E-governance
13. Verbal ability
14. Comprehension
15. Map Pointing
16. Continental drift theory and plate tectonics
17. Monsoon formation
18. Types of climate
19. Distribution of major minerals
20. Indus Valley Civilisation
21. Art and architecture under Mauryan and post Mauryan period
22. Culture and religion under Gupta period
23. Temple architecture
24. Art and architecture under Mughals
25. Colonial economic policy
26. Land revenue system
27. Social reform movements in 19th century
28. Partition of Bengal
29. Non-cooperation movement
30. Civil disobedience movement
31. Quit India movement
32. American and French Revolutions
33. Industrialisation
34. First World War
35. Second World War
36. The key features of the Indian Constitution and Preamble
37. Fundamental Rights
38. Directive Principles of State Policy
39. Indian Parliament
40. Parliamentary Committees
41. Budget making process in India
42. Law making process in India
43. Constitutional bodies
44. Judiciary and Judicial activism
45. Emergency provisions
46. Centre-State relations
47. Statutory and non-statutory bodies
48. India and its neighbours
49. UN and its agencies
50. UN Reforms
51. Globalisation
52. Non-traditional security threats
53. Nuclear Disarmament and Nuclear Non-Proliferation
54. Regional organisations: EU, ASEAN, SCO and SAARC
55. Regional organisations: BRICS, BIMSTEC, etc.
56. Important Inter-state (international) conflicts-I
57. Important Inter-state (international) conflicts-II
58. WTO
59. World Bank and IMF
60. Technological achievements in India: Aerospace and Defence
61. Biodiversity
62. Climate change and Environment
63. Renewable and Non-renewable energy
64. Problems on numbers and ages
65. Ratio-Proportion and Percentage
66. Profit and Loss
67. Time and Work
68. Time and Distance
69. Interest problems
70. Land Reforms after Independence
71. Disaster Management
72. Caste related issues in India
73. Gender related issues in India
74. Tribal issues in India
75. Urbanisation, its problems and remedies
76. Agrarian issues (since 1991)
77. Impact of globalisation on Indian Society
78. Sustainable Development
79. Green revolution, Blue revolution, etc.
80. Social movements (Peasant, Tribal and Women's movements)
80. Blood Relations
81. sdfsfsd
82. Basic Structure Doctrine
83. Western Political Thought : Plato Part 1
84. Plato Part 2
85. Aristotle Part 1
86. Aristotle Part 2
87. Machiavelli Part 1
88. Machiavelli Part 2
89. Hobbes Part 1
90. Hobbes Part 2
91. Locke Part 1
92. Locke Part 2
93. Rousseau Part 1
94. Rousseau Part 2
95. Jeremy Bentham
96. John S. Mill Part 1
97. John S. Mill Part 2
98. Marx Part 1
99. Marx Part 2
100. Gramsci Part 1
101. Gramsci Part 2
102. Hannah Arendt Part 1
103. Hannah Arendt Part 2
104. Harold Laski
105. Political Theory: Meaning and Approaches Part 1
106. Political Theory: Meaning and Approaches Part 2
107. Political Theory: Meaning and Approaches Part 3
108. Theories of State Part 1
109. Theories of State Part 2
110. Justice Part 1
111. Justice Part 2
112. Equality Part 1
113. Equality Part 2
114. Rights Part 1
115. Rights Part 2
116. Democracy Part 1
117. Democracy Part 2
118. Concept of Power Part 1
119. Concept of Power Part 2
120. Political Ideologies Part 1
121. Political Ideologies Part 2
122. Political Ideologies Part 3
123. Indian Political Thought Part 1
124. Indian Political Thought Part 2
125. Sir Syed Ahmed Khan
126. Sir Aurobindo
127. M. K. Gandhi Part 1
128. M.K. Gandhi Part 2
129. B.R. Ambedkar Part 1
130. B.R.Ambedkar Part 2
131. M.N. Roy
132. Comparative Politics Part 1
133. Comparative Politics Part 2
134. State in Comparative Perspective Part 1
135. State in Comparative Perspective Part 2
136. Politics of Representation and Participation Part 1
137. Politics of Representation and Participation Part 2
138. Approaches of Globalisation
139. Approaches to the Study of International Relations Part 1
140. Approaches to the Study of International Relations Part 2
141. Key Concepts in International Relations Part 1
142. Key Concepts in International Relations Part II