Entrepreneurship
Cell
Impreneurs - The Entrepreneurship-Cell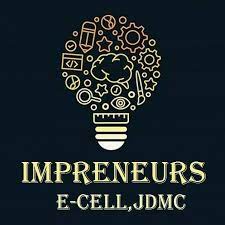 Impreneurs-The Entrepreneurship Cell is a society whose aim is to build an entrepreneurial- oriented world and inspire the students and budding entrepreneurs to become the future leaders. Founded by Meher Suri and Ashmean, the idea was conceptualized in 2016, and since 2017, the society is working towards this aim, and is enhancing the skills and personality of the students too. Impreneurs, ignites the belief of every individual by its meaning: 'I am an entrepreneur. This unique term inspires everyone to be their own leader and contribute to the world of creativity and design by enabling new ideas and vision.
The Incubation Program of Janki Devi Memorial College (JDMIP) is a student-led program that aspires to create a society in which individuals get a platform to establish themselves and become successful entrepreneurs. The program is mentored by faculty and industry experts and is partially funded by JDM College. The JDMIP intends to work with industry experts, alumni, faculty, and students to nurture ideas and convert them into successful businesses. It aims to provide necessary facilities for start-ups ranging from mentoring, options for financing, marketing support, hands-on training, and legal advisories.
We at E-Cell, believe that entrepreneurship is the key to India's development. To fulfill this vision, we have developed and successfully implemented various initiatives to help students, young entrepreneurs and professionals in their entrepreneurial journey. To give the students a platform to showcase their entrepreneurial skills, Project Anupam was launched under the Incubation Program, initiated by IMPRENEURS - The Entrepreneurship Cell of Janki Devi Memorial College. The Project was founded by Ritika Aggarwal, and Nitika Sharma in 2020, and was launched through the offline mode in 2021.
Project Anupam is a foundation stone, open to all aspiring creators where talent is welcomed and skills are appreciated. The idea behind launching this initiative was to make a difference in the lives of those who work hard and create handmade products but don't have a platformto display or service them. It is a initiative to promote budding entrepreneurs and transform their skill into a revenue generating model.
Convener: Prof. Madhu Gupta and Prof. Manisha Sinha
Members: Ms. Richa Sharma, Mrs. Asma Anjum, Ms. Shivani Thakur, Dr. Rashmi, Mr. Ravinder Meena, Ms. Shalini Singh
President: Mansha Mathur [B.com (H), 3rd Year]
Vice President: Ananya Aggarwal [B.com (H), 2nd Year]
Project Head: Palvi Batra (Economics (H) - 3rd year]
Finance Head: Deepanshi Singhal (B.com (P) 3rd year)
Treasurer: Anushka Vij (B.com (H) 2nd year)
Media and Marketing Head: Itishree Vats (English (H) 2nd year)
Content Head: Rochika Malhotra (Economics (H) 2nd year)
Sponsorship Head:: Ananya Narang (B.com (P) 3rd year)
Research Head: Harshita Gera (BA (P) 3rd year)
Events Head: Khushi Mathur (B.com (H) 3rd year]
Project Coordinators:
Teacher coordinator - Ms. Shivani Thakur
Finance and Sponsorship - Anisha Sharma (Political Science (H) 3rd year)
Logistics - Bani Walia (Economics (H) 2nd year) Media and Content - Sukhda (B.com (P) 2nd year)
PR and Outreach - Gunjan Mittal (Economics (H) 3rd year)