Entrepreneurship
Cell
Impreneurs - The Entrepreneurship-Cell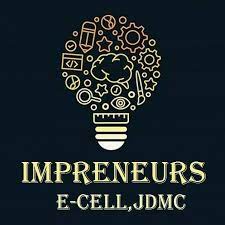 Impreneurs - The Entrepreneurship Cell of Janki Devi Memorial College, University of Delhi strives to ignite the brains of students by molding their ideas into something valuable leading to increasing their productivity. Every month the Cell hosts a wide range of educational webinars and contests, as well as supplemental courses (which provide participants hands-on experience with real-world projects). To help emerging entrepreneurs reach new heights, Impreneurs has launched the Project Anupam, an effort that aims to provide them with practical answers.
In other words, society's goal is to help aspiring entrepreneurs and curious students learn, grow, and achieve in their life. It firmly believes that 'By replacing the unknown with curiosity, one can open itself to an infinite stream of possibilities'!
Read More
Convener: Dr. Madhu Gupta, Dr. Manisha Sinha
Members: Mrs. Richa Sharma, Mrs. Asma Anjum, Mr. Stanzin Tsewang, Ms. Shivani Thakur, Dr. Rashmi.
Students office bearers, 2021-22
President: Ritika Aggarwal [B.Com. (H) 3rd year]
Vice President: Khushi Jaluka [B.Com. (P) 2nd year]
Project Head: Nitika Sharma [B.Com. (H) 3rd year]
Finance Head: Prachi Gupta [B.Com. (H) 3rd year]
Media and Marketing Head: Manisha Chaudhary [B.Com. (H) 3rd year] Priyal [ B.Com. (H) 3rd year]
Content Head: Saloni Rai [ B.Com. (H) 3rd year], Drishti [ B.Com. (H) 3rd year]
Research Head: Mansha Baluja [B.Com. (H) 3rd year]
Event Head(s): Nitya Mahajan [ B.Com. (H) 3rd year], Ritika Singla [ B.Com. (H) 3rd year]