Girl Up Devi ( renamed Girl Up Nitara)
Girl Up Devi ( renamed Girl Up Nitara)
Girl Up Devi ( renamed Girl Up Nitara)
Introduction of Society: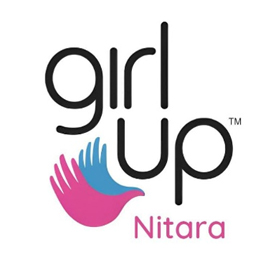 Girl Up देवी is a new chapter of Girl Up campaign, a United Nations Foundation initiative to support UN agencies, which supports the empowerment of girls around the globe giving them equal chance for education, health, social and economic opportunity, and a life free from violence.
In our Indian culture, देवी stands for Goddess- who is capable of doing anything.
Objective:
1. There is a need for today's youth to raise its voice and take a stand for women and their rights in society. We at Girl Up देवी, aim to drive today's generation towards women's causes and issues.
2. Girl Up देवी envisions to fulfill the goals of the Girl Up campaign, 'Uniting Girls to change the world'.
3. We intend to guide individuals throughout their journey from leader to changemaker.
4. We help to provide specialized programing on global gender issues and organizing, advocacy, fundraising and communication.
Establishment:
Girl Up देवी was registered on the official website of Girl Up on 11th August, 2021. The club started from 20th August,2021 in college with the permission of Prof. Swati Pal, esteemed Principal of Janki देवी Memorial College.
Conveners:
Dr. Vibha Jain [Commerce Department]
Ms. Mansi Anand [Commerce Department]
● President- Manasvi Gupta [B.com. (H)- 3rd Year]
● Vice-President- Ritika Goyal [B.com. (H)- 3rd Year]
● General Secretariat- Priyanshi Gupta [B.com. (H)- 3rd Year]
● Media & PR Team Head- Vanya Tripathi [B.com. (H)- 3rd Year]
● Content Head- Shreya Shandilya [B.com. (H)- 3rd Year]
● Logistics Head- Meenal Chawla [B.com. (H)- 3rd Year]
● Sponsorships Head- Shreya Midha [B.com. (H)- 2nd Year]
Coordinators:
● Nivedita Rawat [B.A. (hons.) Economics- 2nd Year]
● Bhavya Sinha [Sociology (H)- 2nd Year]
● Tanya Sharma [B.A. (hons.) Economics- 2nd Year]
● Khushi Pandey [B.A. (hons.) Economics- 2nd Year]
Links of Social Media platform: