Girl Up Nitara
Introduction of Society: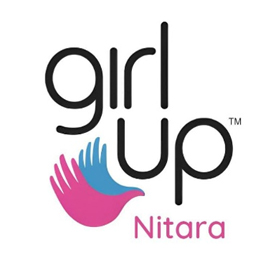 Girl Up Nitara is a new chapter of the Girl Up campaign. Girl Up is a United Nations Foundation initiative, which supports the empowerment of girls, giving them an equal chance for attaining education, health, social and economic opportunities, and enabling them to live a life free from violence. Girl Up initiative aims at establishing Girl Up Clubs in educational institutions all across the globe. One such initiative at Janki Devi Memorial College is 'Girl Up Nitara', which was born as Girl Up Devi. Girl Up Devi was registered on the official website of Girl Up on 11th August, 2021 and launched at Janki Devi Memorial College on 20 th August 2021 with the support of our beloved principal, Prof. Swati Pal. Girl Up Devi was later rechristened as Girl Up Nitara on 19 October 2022.
'Nitara' in hindi, means something which is deeply rooted and stands firm. It perfectly resonates with the ideology of our esteemed college, Janki Devi Memorial College (JDMC) and the values that it looks forward to cultivating in its students. Women at JDMC exhibit a strong and unshakable resolve that not only gives them a unique identity but also binds them together in sisterhood. 'Nitara' represents a sense of contentment that provides strength to the character of women at JDMC.
Vision of Girl Up Nitara:
We at Girl Up Nitara, aim to transform today's generation into leaders who can resolve women-centric issues at a global level and carry forward the legacy established by United Nations Foundation.
We intend to provide a platform for women where they can showcase their talent and also aid them in the process of acquiring new capabilities which can help them to build a brighter future for themselves.
We look forward to sensitizing the current generation towards gender issues by organizing interactive events, advocating women's rights, fundraising for their upliftment and promoting open communication on less-talked-about issues.
Conveners:
Dr. Vibha Jain [Associate Professor, Department of Commerce, JDMC]
Ms. Mansi Anand [Assistant Professor, Department of Commerce, JDMC]
Founding Members:
1. Manasvi Gupta
2. Ritika Goyal
3. Priyanshi Gupta
4. Vanya Tripathi
Current Office Bearers:
President- Bhavya Sinha [B.A. (hons.) Sociology- 3rd Year]
Vice-President- Khushi Pandey [B.A. (hons.) Economics- 3rd Year]
General Secretariat- Tanya Sharma [B.A. (hons.) Economics- 3rd Year]
Treasurer- Shreya Midha [B.com. (H)- 3rd Year]
Media and PR Head- Tanisha Bhatt [B.com (H)- 3rd Year]
Content Head- Purnima Chauhan [B.com (H)- 3rd Year]
Logistics Head- Khushi Garg [B.A. (H) Political Science- 3rd Year]
Sponsorships Head- Navya Dang [B.com. (H)- 3rd Year]
Coordinators:
Media and PR Team - Ajuni Brokha [B.A. (H) Economics- 2nd Year]
Content Team - Rudrani Brothakur [B.A. (H) History- 2nd Year]
Logistics Team - Nivedita [B.A. (H) Political Science- 2nd Year]
Sponsorship Team - Pooja Jain [B.com (H)- 2nd Year]
Links of Social Media platform: