Teaching-Learning
---
We teach the curriculum as framed and prescribed by the University of Delhi using the following teaching learning methods:
Conventional classroom-based methods
Chalk and board method
ICT - use of presentations and videos to enhance the learning experience
Use of Smart Board Water pollution , Environment Quiz
Remedial classes for one-on-one interaction with the students who need additional academic support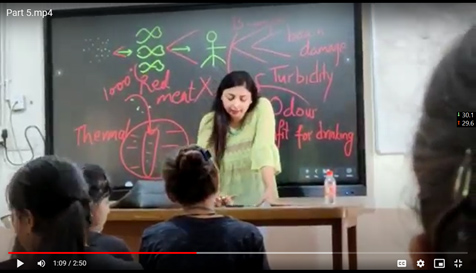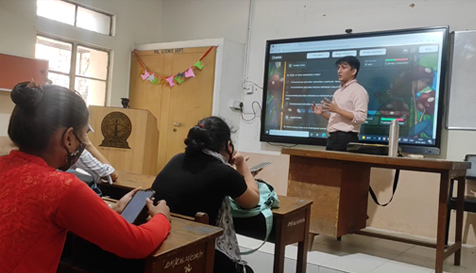 Innovative learner-centric methods
Field-based learning: Mandatory field trips to enhance learning of immediate environment (not performed due to Covid)
Collaborations with government and non-government programs
Visit to Yamuna River - Nadi ko Jano
Quizzes application
Group Discussions
Innovative IA Practices
Outdoor classrooms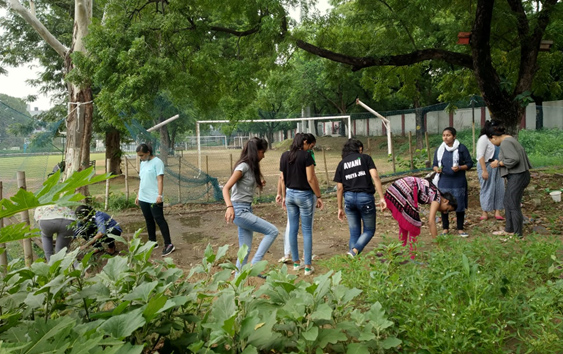 Attending faculty development programs to stay up to date with current trends in pedagogy.
Our YouTube channel: DEPARTMENT OF ENVIRONMENTAL STUDIES, JDM COLLEGE - YouTube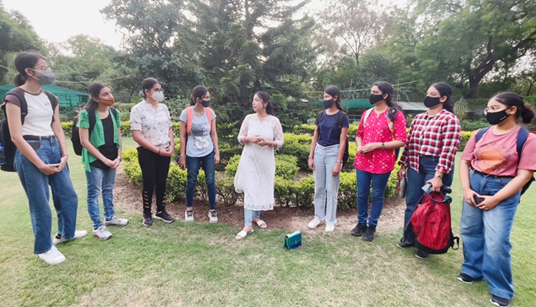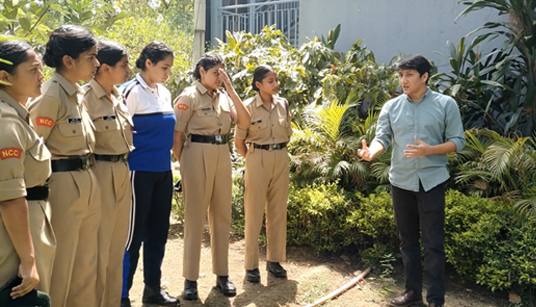 Capacity Building
---
Capacity Building
Student Progression
---
Real time assessment of students progression level
The EVS department is using real-time ICT assessment tools like quizizz and smart board lectures to assess the learners' awareness and progression level.
The assessment is based on the live learner-centric MCQ based quiz sessions where students take part as individuals or as a team.
Such assessments also promote teamwork and healthy competition among students.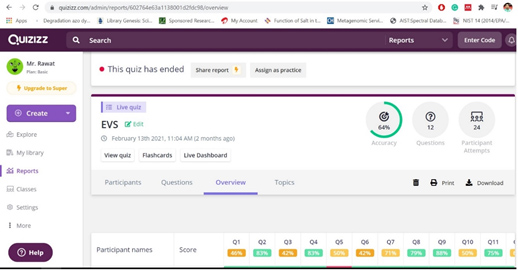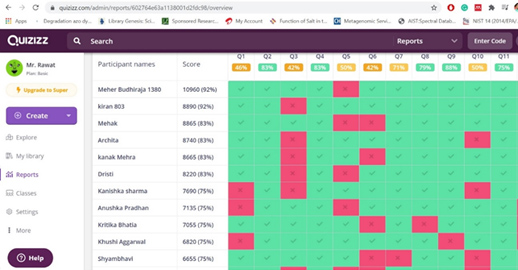 Awards and Recognition
---
Ms. Ifrah Rehman
Awarded Environmental Impact Assessment degree at Anil Agarwal Environment Training Institute/Center for Science & Environment on 16th Sep, 2022.
Awarded first prize for presentation of paper titled "Reinventing Environment Education in a virtual classroom: The Struggles and Possibilities in National Seminar Unlocking Education on 15th July, 2021
Awarded the Certificate of Appreciation in the India Online Convention and Competition organized by ENACTUS in August, 2020.
Dr. Deepak Rawat
Invited as a speaker at the Algal Biomass Summit 2022 organized by the Algae Biomass Organization, USA - October, 2022
Awarded Research grant of INR 5 lakhs INR from Institute of Eminence, University of Delhi
Received Letter of Appreciation from Mahatma Gandhi National Centre for Rural Education (MGNCRE), Ministry of Education, GOI for leading the college to win the District Green Champion Award in March, 2022
Received COVID-19 Research Recovery Award of INR 2.5 Lakhs by the British Phycological Society, UK in May, 2021.
Awarded Research grant of INR 3 lakhs from Institute of Eminence, University of Delhi
Invited as a speaker at the European Chlorella Conference 2021 organized by European Algae Biomass Association (EABA) – September, 2021
Awarded Doctor of Philosophy (Ph.D.) degree at University of Delhi in February, 2021.
Visiting Researcher (June-September 2018) at the Department of Biochemical Engineering, University College London, UK.
Newton-Bhabha Ph.D. Placement Award supported by the British Council (India and UK), Newton Fund (UK) and the Department of Biotechnology (India) for the year 2017-18.
Curriculum Development
---
Curriculum Development
Faculty Research Projects
---
Dr Deepak Rawat
1) Completed: Project Lead in a British Phycological Society, UK funded project on "Iron-dependent mutualism between Chlorella sorokiniana and Ralstonia pickettii forms the basis for a self-sustainable bioremediation"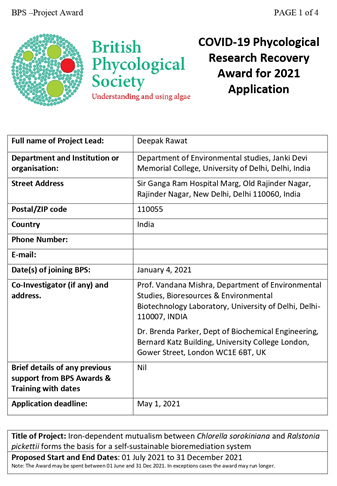 2) Completed: Co-PI in a Institute of Eminence funded project on "Environmental fate of textile dye based on its partitioning in sediment- water phases"
3) In progress: Co-PI in a Institute of Eminence funded project on "Environmental prevalence and emerging environmental threats from aromatic amines developed in wastewater from textile industry"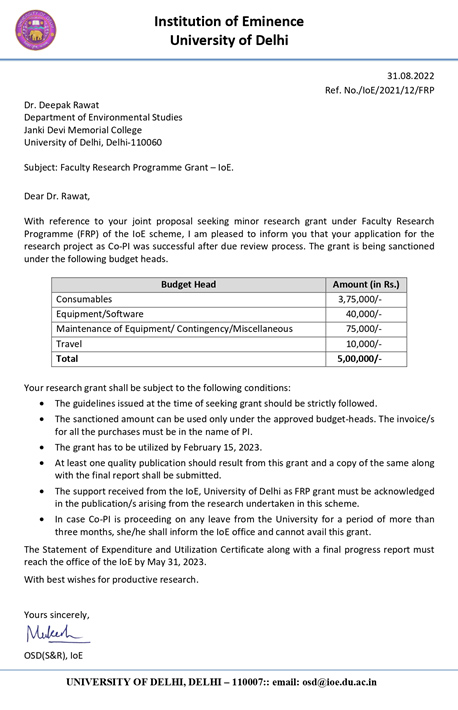 Student Research Projects
---
Ms Ifrah Rehman
1) Completed submission of "Awareness on Environmental and Health Hazards of Sanitary Napkins and Factors that Impact College Students' Choice of Menstrual Products"
2) Different types of wastes - Creation, disposal and management in Indian states.
Dr Deepak Rawat
1) How extinction of bees will have an economic impact on agriculture production
2) Road to establish a cost-effective and eco-friendly hydrogen economy in India
Best Practices
---
1) EVS Department made a successful transition to online teaching through Google Meet and Google Classroom, with the closure of colleges due to the Covid pandemic from August 2020. The department used online resources to conduct exams, evaluate student assignments and exam scripts and also share reading material.
2) Workshop and Lecture series were organised in the online mode for students as well as faculty in academic session 2020-2021 and 2021-22.
People in environment Webinar : The webinar series aimed to sensitize people about the contribution of people in shaping the environment movement in India. The Department of EVS under the aegis of IQAC-JDMC organized a lecture on 'CLIMATE CHANGE: LOCAL vs GLOBAL' by Strategy and Policy Advisor Mr. Sanjay Gupta on 8th October, 2021; 'MEMORIES OF INDIAN ENVIRONMENTALISTS' by notable historian and sociologist Dr. Ramachandra Guha on 18th October, 2021; and 'LIFE AS A MINISTER 2009-2011' by the Hon. Minister Sh. Jairam Ramesh on 3rd November, 2021.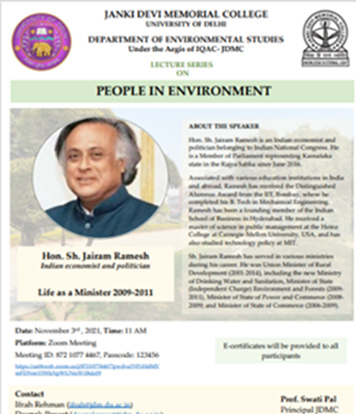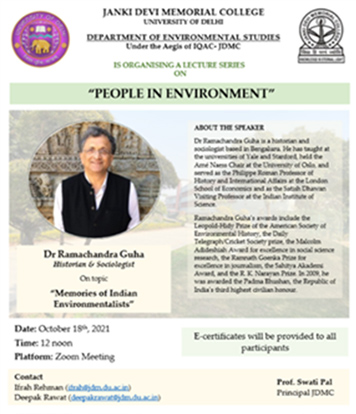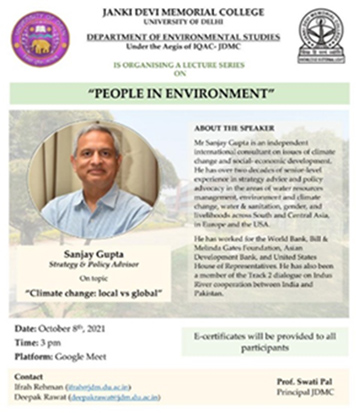 Nadi ko jano: The JDMC college also took part in the nationwide 'Nadi ko Jano' campaign in which all the students of the college will collect data on the rivers for the success of the water conservation initiatives taken by the RFRF organisation. The workshop was conducted using virtual mode. The chief guest of the workshop was Prof. Ranjan Kumar Tripathi, Gurukul Prakalp Pramukh BSM (Delhi), Mahasanchalak "Nadi ko jano" abhiyan (Delhi). The expert of the technical session was Dr. Shambhu Nath Mishra. The webinar was also joined by more than 450 students. The college also organized a trip to the River Yamuna near Wazirabad as part of the NADI KO JANO CAMPAIGN on 10th March, 2022. A total of 56 students volunteered for the program and learnt about the River Yamuna in Delhi, its religious and economic importance as well as the level of pollution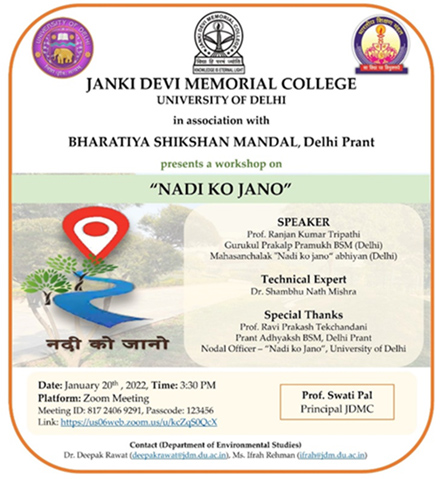 3) Special attention was paid to the academic requirements of slow learners by organising regular remedial classes.
4) While advanced learners were encouraged to carry out research projects that were facilitated as a part of the curriculum. Research projects provide an opportunity for advanced learners. The EVS department is using real-time ICT assessment tools like quizizz and smart board lectures to assess the learners' awareness and progression level.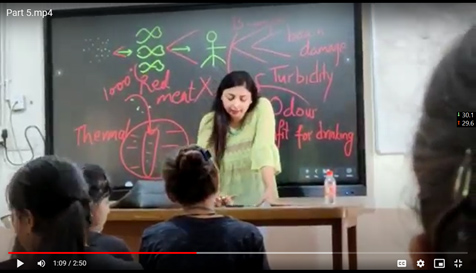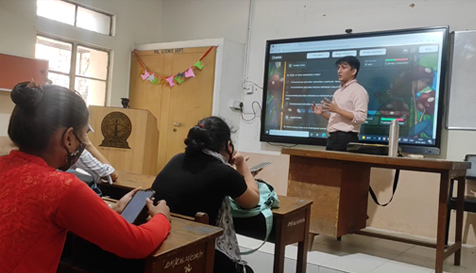 5) Skill oriented Add-courses were also offered by the Department to help students learn the valuable skills of research, project writing, data analysis, and conducting surveys.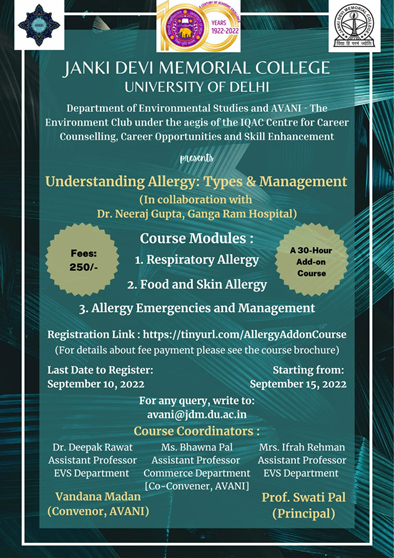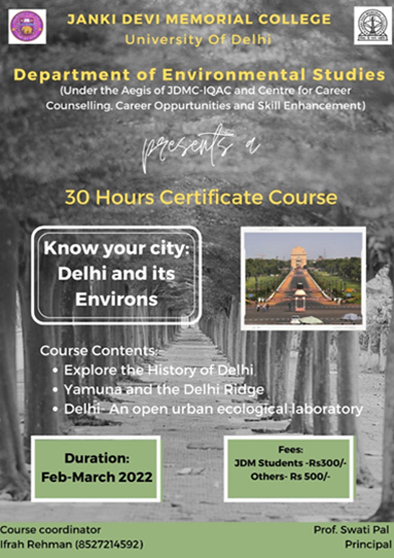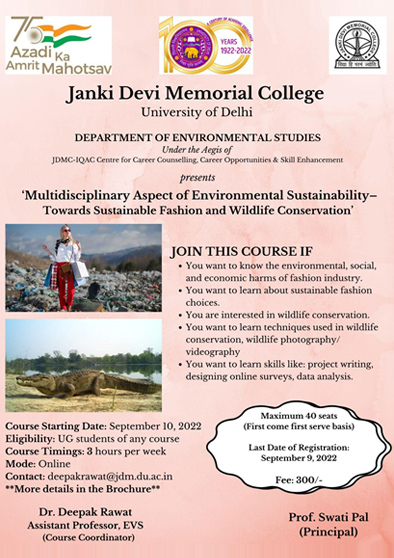 6) Student friendly practices including, active mentoring of students by faculty, remedial classes for slow learners, virtual trips to biodiversity parks, and participation in crowdsourcing data collection activities organised by various organizations.