Teaching-Learning
---
Physical Education Department offers GE courses to all Honours students in second year.
Promoting Universal Values and Ethics - Through the sessions on Yog, meditation and fitness, it's a conscious effort to emphasize to not just the students but all who cared to attend - to inculcate right choices, habits, lifestyle and thereby promoting universal values and ethics of living a conscientious and meaningful life.
An effective teacher is able to diagnose students learning needs and always try to get feedback not only on the act of teaching, but also on the results of teaching. She knows how to develop a positive climate in the classroom in order to make it a stimulating learning environment. We always seek an opportunity to share what we have learned and to inspire those young and fresh minds.
Strict adherence to academic calendar
Regular classes and individualized instructional programmes
Demonstration methods
ICT methods (Movies/videos)
Students' presentations - Projects and seminars, Group Discussion, remedial classes etc.
Traditional chalk and duster methods
E-learning / E- content -Online Sessions - Google Classroom, Zoom, what's app video calls, Facebook live sessions, Skype, Google meet and social media during COVID 19.
The department regularly uses visual media tools like live Videos, fun videos, You tube videos to enhance learning process among the students along with projector presentations by the students to develop their leadership as well communication skills
Internal assessment - Home assignments, projects & class tests scores and answer sheets are shown to the students within 15 days to resolve the grievances, if any.
Regular mentoring and guidance - provided to students with special academic needs and care.
Individualized attention to all students - to help them with their learning process.
Remedial classes - as per the requirement of the students.
Student centered teaching-learning
Visits to Gyms, Health & Physiotherapy centres, stadiums, schools & colleges for practice matches
Individualized and group Counseling
Easy Accessibility- Personal interaction with all players
Inviting renowned sports players, speakers on various topics related to sports, psychological training, career etc.
Mass Participation for students & staff- 1st Janki Cup- 2019-20 and Annual Sports Day for Staff & Students every year
Sports, Health and Fitness Programmes - Overall health and well-being through Aerobics/Zumba, Yoga etc. to combat physical & mental health issues arising out of forced confinement for two years of lockdown at homes due to COVID pandemic. Issues of mental, social and emotional health- anxiety and panic in family and society due to over and extended exposure to negative news all around.
Specific sports/game training for Inter-College, State, Inter-University and national/international tournaments
Daily refreshments, qualified coaches and trainers, First aid, regular career and general counseling, sports kits, equipments & safety kits, outdoor games, indoor Games for all students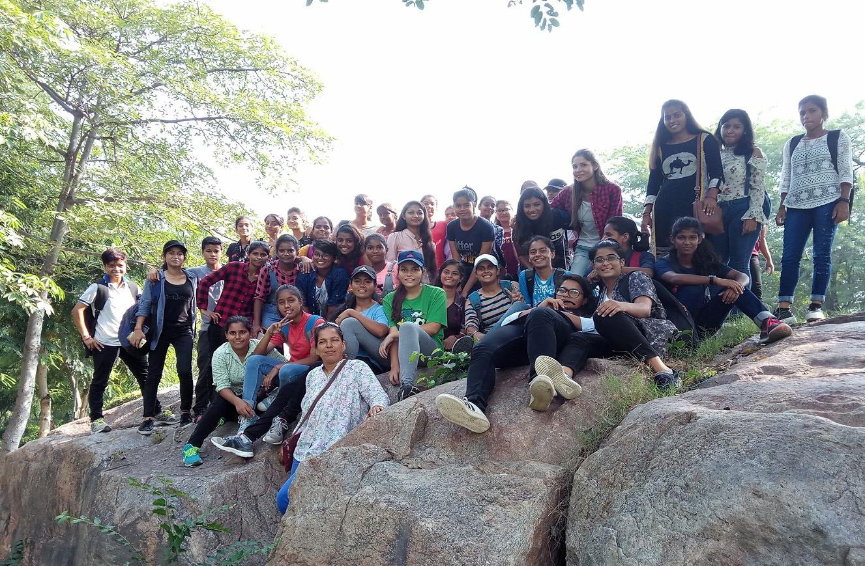 Visits to outside venues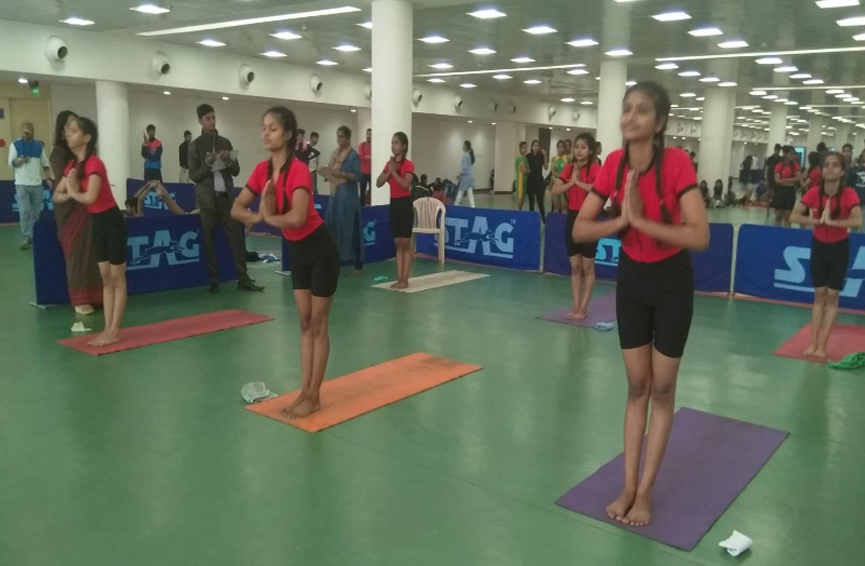 Inter College Winner JDMC Yog Team performing in Inter College Tournaments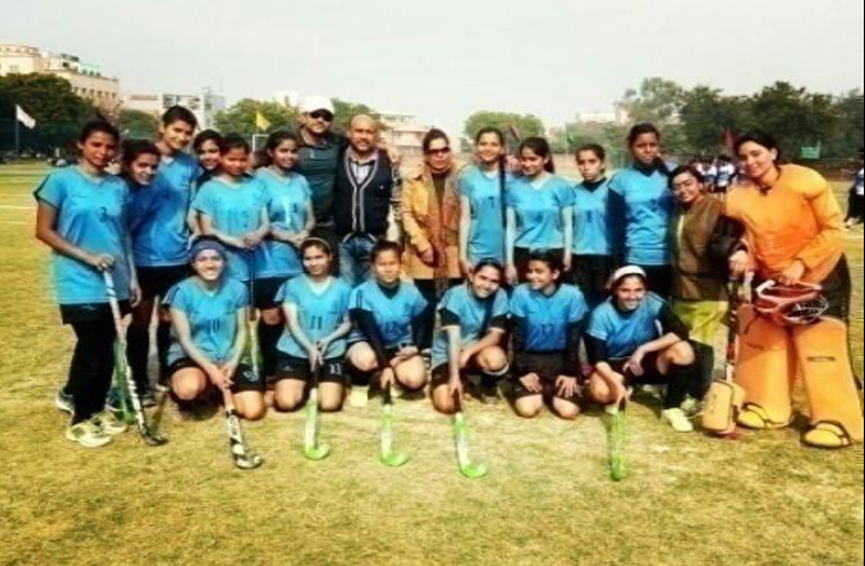 Winner, JDMCs Hockey Team in Inter College Hockey Tournament
Capacity Building
---
Add on Course on Yog as Preventive healthcare during COVID 19 Pandemic
As a part of its capacity-building initiatives, the Department of Physical Education offered a month workshop cum add-on course on "Preventive Healthcare - Anxiety and Stress Management through Yog during COVID Pandemic" in May June 2021.
The Department also going to organize another add-on courses on -
First Aid and Safety Measures Training for all students of JDMC, specifically for sports girls to help them develop soft skills and deal with any emergency on road, public place or at home.
This add on course shall be introduced in the month of February 2022 in collaboration with Alfalah School of Medical Sciences and Research Centre, Dhauj, Faridabad, Haryana.
Student Progression
---
16 students from the college are involved in higher education.
Placement
4 from the college have been placed in various departments of Government.
3 students from the college have qualified other competitive exams.
Awards and Recognition
---
Dr. Abha Jain -
Designated as an event ambassador for
1) 100 days of Running, HDOR 2019 and
2) Hundred Days of Cycling, HDOR 2020 -- Gold medal finish - 19th October 2020 to 26th January 2021 by HDOR, a virtual platform for organizing international fitness activities and events
Most Active Cyclist 2020 :- Logging 4000 + km in 300 days to promote Green Mode of Transport and Healthy lifestyle organized by MAPS Studio & cyclists unions in collaboration with Delhi Police
Super Slammer Finisher Award -Four Gold medals and a silver and bronze medal in Republic Day Week Ride Races from 25 to 31 January, 2021
Annual Ride Challenge - January to December 2020 with 10 Gold medals.
Co-chairperson, women's committee, Football Delhi (Delhi Soccer Association)
Member, selection committee of Delhi state senior and junior women's selection trials for participation in Women National Soccer Championship, 2021.
Hans Women's Football Club secured Championship - Dr. Jain has led the club (as the president) in Delhi Women's Football League at JLN & Ambedkar Stadium from 22nd March to 10th April, 2021.
Mr. Santosh Kumar Giri
Awarded Ph. D degree for his thesis entitled, "Effect of Bhramari Pranayama on GeneralMental Ability and Physiological Variables of School Going Children", submitted in theDepartment of Physical Education and Sports Sciences, Faculty of Inter-Disciplinary and Applied Sciences, University of Delhi, 2021
Publications -
Giri, S.K, "A study on Effect of Bhramari Pranayama Training on Systolic and Diastolic Blood Pressure of school going children.", Online International Interdisciplinary Research Journal (Bi- monthly): ISSN 2249-9598 (Vol. 10- Sept. 2020), Special Issue: 136-149
Giri, S.K, et.al, "Effect of Six Months Bhramari Pranayama Training on Resting Pulse rate of Middle Standard Students.", Online International Interdisciplinary Research Journal, (Bi- Monthly), ISSN 2249-9598 (Vol. 11.1, Jan-Feb 2021): 203-210.
Curriculum Development
---
Dr. Abha Jain was associated with curriculum content designing for Generic Elective Courses in Honours and discipline subjects in Programme courses.
She also developed design and content for First Aid and Safety Measures Training, an add-on course for students of JDMC specifically for sports girls to help them develop soft skills and deal with any emergency on road, public place or at home.
This add on course shall be introduced in the month of February 2022 in collaboration with Alfalah School of Medical Sciences and Research Centre, Dhauj, Faridabad, Haryana.
Faculty Research Projects
---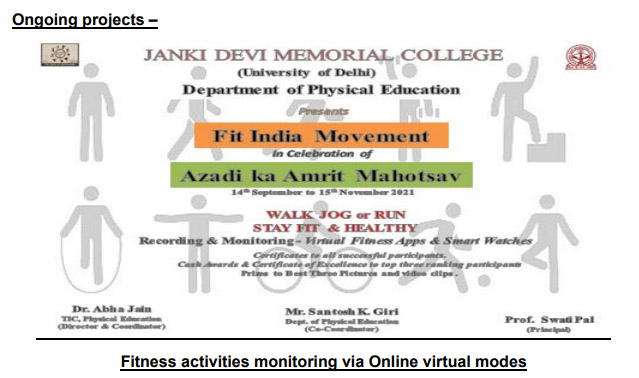 Student Research Projects
---
Dr. Abha Jain & Ms. Nisha have an ongoing research project entitled, "Effects of Collegiate Physical Education Programmes on Aerobic and Anaerobic Fitness of Girls Students (A Longitudinal Study) 2018-23"
Dr. Abha Jain & Dr. Santosh Kumar Giri have an ongoing research project entitled, "Effect of Physical Education Program on the Selected Anthropometric Variables, BMI and Resting Heart Rate (RHR) of Females Students during and Post Pandemic COVID 19 (A Longitudinal Study) 2020-22"
Best Practices
---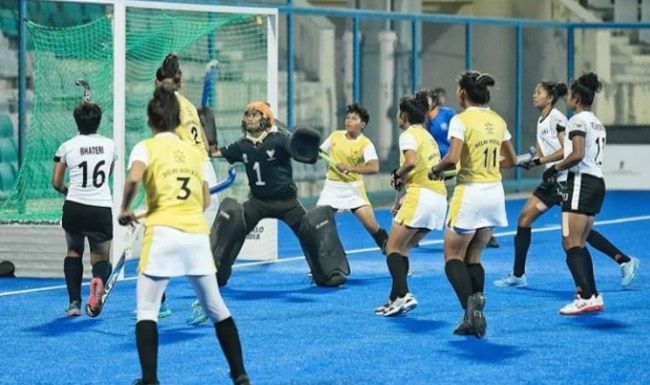 JDMC Girls excelling at national level Hockey tournaments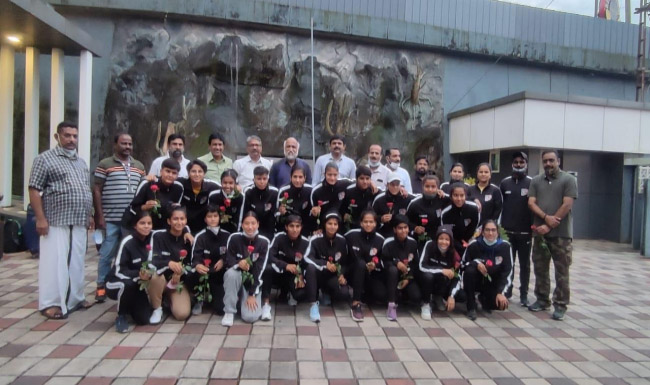 JDMC Girls excelling at national level Football tournaments
Holistic Development of students -
By introducing students to wellness programmes by motivating them to adopt physical fitness program as well as recoding their feedback on the same through the 5 points likert scales and other feedback questionnaires on a regular basis for 6 weeks and monitoring of their program and progress through online modes of fitness apps like Strava & Google fit apps etc.
Active participation of students in research projects under faculty guidance
Dynamic environment for learning by organizing interactive activities, competitive events, simulation activities, seminars on a regular basis
Effective use of ICT tools by faculty in managing virtual classrooms and discussion forums, online sharing of content and assessments modules.
Continuous up-gradation of skills by faculty members by actively participating in faculty development programmes.
Democratically elected union to inculcate leadership and organizing skills in students.
Incorporating scientific based training methods
Greater involvement of external experts
Water Harvesting in Basketball & Football/Hockey Field
Outdoor Gym with fitness equipments for all.
Workshops on Sports Nutrition, Sports Medicine, Yoga and Meditation etc.