Teaching-Learning
---
Vision
Academic excellence and holistic development of students
Mission
Build strong academic foundation of students - focus on understanding as well as application of concepts
Create an environment that helps them to grow in various respects and providing the much-needed co-curricular and extra-curricular exposure in currently high-demanding times
Prepare them to become responsible contributors to society
The department uses student-centric pedagogic tools and encourages collaborative learning, participative learning and experiential learning. The pedagogies include interactive lectures, group discussions, students' presentations, case studies, quizzes, panel discussion and flipped classroom. In order to adequately prepare students for examinations, we also have pre and post class test discussion along with discussion on previous year question papers.
Due to the pandemic, the teaching learning shifted to online mode. As per the recommendation of University of Delhi, we are using Google Meet and Google Classroom. Infact, we shifted to these platforms way back in April, 2020 when classes were disrupted due to the Lockdown thereby trying to ensure continuity and quality in our teaching-learning processes. Faculty upgraded their ICT skills, attended various training sessions and webinars conducted within and outside the college. We are committed to providing the best learning environment to our students.
Remedial classes are organized by the department to assist students in improving their understanding of the concepts and learning to apply them thereby enabling them to improve their academic performance. We also focus on advanced/ enthusiastic learners by giving them extra reading material, by creating opportunities for them to explore further and express themselves and by conducting in-class / in-tutorial activities such as presentations, advanced discussions etc.
The department engages in mentoring students in many ways including academic matters, career counselling, mental health, guidance in preparing for competitive exams and guidance in preparation of entrance exams.
Pedagogic methods used by the department: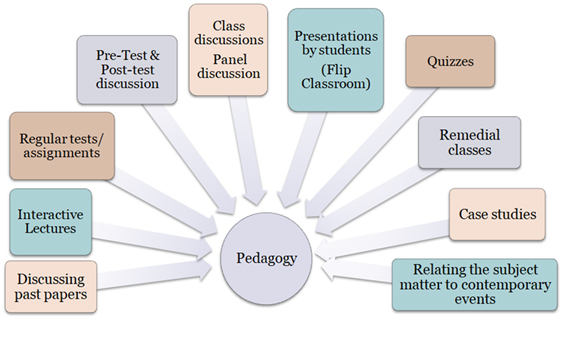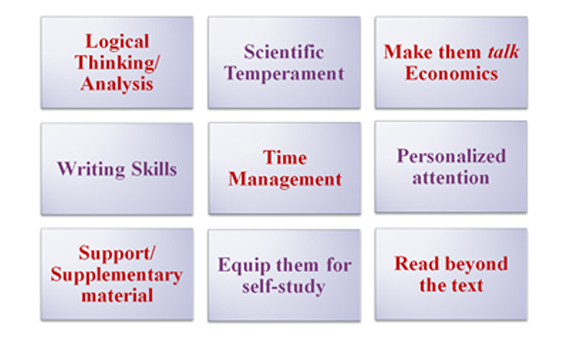 Capacity Building
---
Capacity Building
We understand that our role does not get over with teaching. We make all possible efforts to provide an environment to our students that enables and empowers them to grow into well-rounded personalities. The Economics Department of Janki Devi Memorial College has always intended to provide a holistic setting for its students to prepare them for careers in academia, management, research, government, and many other fields. We work towards creating an environment that helps them to grow in various respects and equips them with the much-needed co-curricular and extra-curricular exposures, a necessity in currently high-demanding times. We aim to nurture leadership qualities, cultivate organizing skills and stimulate teamwork in the students in addition to promoting creative and critical thinking.
The department has a very active 'Economics Association' that organizes, every year, various intra-department events and Inter-College events. Students not only get to organize these events but also participate in various events such as Debate, Paper-Presentation, Panel Discussion, Group Discussion, Case Studies, Quiz, Poster-Making, Ad-Mad Show, Barter, Extempore etc. The department launched its annual department magazine, ECOGENE, in 2013-14 and 'Annual Lecture Series' in 2016-17. The department also organizes workshops to help students in their preparation for various entrance/ competitive examinations. Workshops are also organized in order to sensitise students towards various issues of importance to individual, interpersonal and society.
Despite the difficult times due to the Covid-19 pandemic that led to virtual classrooms, the Economics Department not only maintained the steadiness in teaching and learning but also coordinated numerous engaging events for students that aimed towards their overall development. National webinars were conducted and Annual Lecture Series were continued to develop the critical thinking and scientific temper among students.
Faculty of the department continuously participate and attend various conferences, workshops and faculty development programs to enhance their skills and knowledge.
Student Progression
---
Introduction
The students of our department have chosen diverse careers and profiles, while many are pursuing their higher studies in reputed universities in India and abroad, others have opted for corporate jobs, civil services, and start-up businesses.
From the academic bath 2018-21, Prakriti Gupta and Muskan Aggarwal have joined the Indian Institute of Management, Kolkata and Shillong, respectively for their higher education. Divya Wadhwa from the same batch has been selected for higher education at FORE School of Management.
From the academic batch, 2017-20, N. Akhila is pursuing her master's degree at Jawaharlal Nehru University. Muskan Bhola, Neelam, Priyanshi Nagrath and Sneha pursuing their master's degree at the Delhi School of Economics. Ritika Jain has joined the Indian Institute of Management, Rohtak for higher education. Vedika Gaba, Diksha Chauhan, and Mahima have respectively joined Indian Institute of Foreign Trade, Gokhale Institute of Politics and Economics and Central University of Rajasthan for their further studies.
Some have successfully ventured into start-ups and are pursuing their entrepreneurship dreams. Nanny Singla has founded her own global venture, 97pehnava_jewels and has been successfully running since 2017.
Awards and Recognition
---
Awards and Recognition
Dr. Shilpa Chaudhary
Received first position in the oral paper presentation session for the paper titled 'Women in North-Eastern States of India: A Socio-Economic Profile' at the National Seminar on 'Food and Culture of North East: Solutions to Sustainable Development' organised by Vivekananda College (University of Delhi), Delhi on August 22, 2019.
Selected for and attended Workshops on Supported Blended Learning under UKIERI (UK-India Education and Research Initiative) as a partnership between Open University, UK and University of Delhi
i. May 31- June 2, 2007 (held at University of Delhi)
ii. October 31 - November 2, 2007 (held at University of Delhi)
iii. June 9- June 13, 2008 (held at the Open University, UK)
Dr. Bijoyata Yonzon
Awarded best paper in the paper presentation session for the paper titled 'Understanding Segmentation of Labour Markets in Contemporary India' at the International Conference on '3i- Intelligence, Innovation and Inclusion-Best Practices for Global Excellence' organised by Department of Management Studies, Pondicherry University on March 11-12, 2016.
Curriculum Development
---
Curriculum Development
Faculty Research Projects
---
Student Research Projects
---
Student Research Projects
Best Practices
---